Browse & Search Category Editor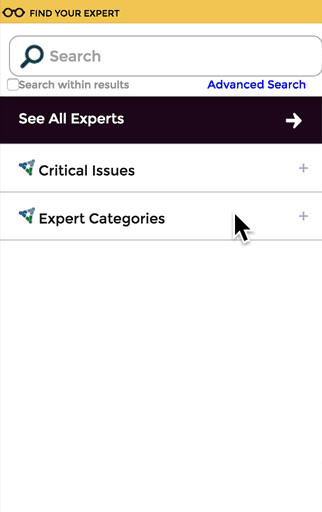 This page is used to associate Users with one or more Categories, as used on the search page.
The category editor is accessible to:
Content Manager, who can modify all categories and users. Access as:
Group Administrator, who can modify it based on users in their group. Access as:
Users, who can add or remove themselves from different categories. Access from your Profile page.
The result is that the Mentor will be included in that category on the search page. The Mentor will also be listed in categories which are "parents" of the selected category. For example, let's say you have a "Marketing" category, which contains "Branding" and "Market Research" as sub-categories. Mentors who are selected only for "Branding" will be automatically included in the "Marketing" category. There is no need to select parent categories.
If authorized, you can use the editor by choosing to select the category ("Choose by Category") and then selecting one or more Mentors to be associated with that category. Alternatively, you can choose to select the Mentor ("Choose by Mentor") and then select one or more categories to be associated with that Mentor.
When choosing by Category, you can filter the presented Mentors by a particular group. Start typing the name of the group and select from the provided list. Press Clear to remove the filter.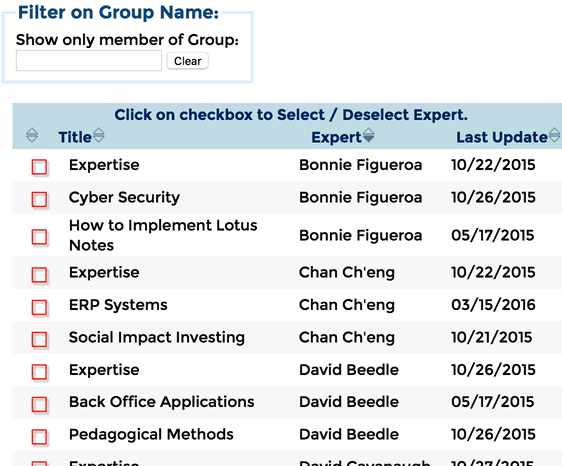 When choosing by Mentor, you can search the tree of Categories by typing in the "Search category tree" field, immediately above the tree on the right.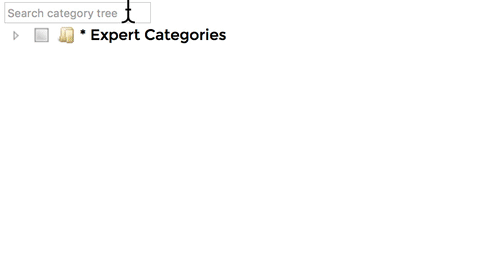 Key for "Choose by Category"
When choosing by category, the tree displayed on the left of the screen uses different icons to represent your authorizations.
Click on arrow or double-click on category to expand / contract.
Right-click (ctrl-click) on category to view menu
To rename or delete category, or create sub-category (if permitted).
Select & drag sub-category to reorder within category, or drag to a different parent category (if permitted).
Selecting a category will result in the display on the right, of all Mentors you are authorized to move to or from the selected category. If you a group administrator, you will be able to move only members of your group(s).
"Local" category

You have edit privileges if you are an administrator, or a group admin with edit privileges.

Editable category

You have edit privileges.

Non-editable category

You may link to this category, but you may not edit or move this category.
See also:
---
Was this information helpful?
Suggestions for improvement?
Still need help?