Account Settings - Zoom Authorization
This page is accessed as:
If you already have a Zoom account, you can authorize this app to use it while scheduling a meeting. We'll take care of sending the proper URL links to all meeting participants.
You only need a Zoom account if you want to host the meeting. Participants do not require Zoom accounts. See Zoom website for more information or to open an account. TrustedPeer is not affiliated with Zoom.
From this settings page, you authorize (or de-authorize) a connection between Cal Poly Entrepreneurship Platform and your Zoom account.
Installation - Authorize Zoom
On clicking you will be presented with a Zoom-provided login popup. From here provide your Zoom credentials (not your Cal Poly Entrepreneurship Platform credentials) to login.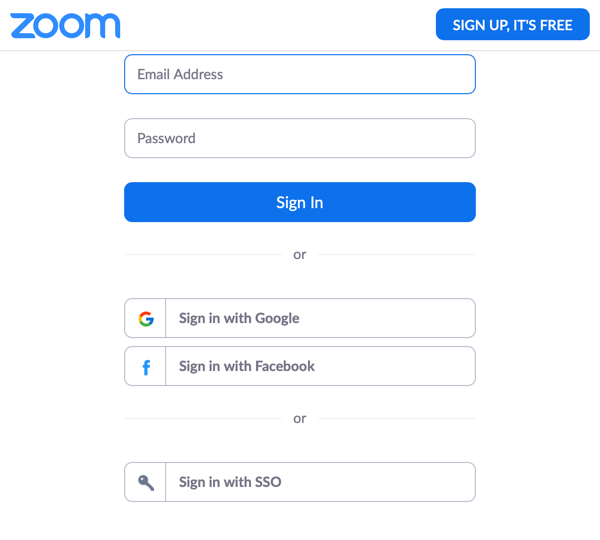 (If your browser is already logged into Zoom, this step will be skipped.)
After login, you will be prompted to authorize the connection. Continue and you'll return to this Setting page, where you will note that the status has been updated to Authorized.
We don't get or store your Zoom login or password. Zoom provides us with an access token, usable only by this site. If for some reason that token becomes unusable, we'll prompt you to re-authorize.
At any time, you can disconnect Zoom and Cal Poly Entrepreneurship Platform by following the Uninstallation procedure described below.
Using Zoom
To use Zoom for a meeting, create a meeting with a Mentor, and then change the Meeting Logistics ("How we meet") to Zoom. If you've not already authorized Zoom, you can do it from the popup.

Once selected, we'll update the logistics to include a start button for the meeting. We'll include the participant URL, in case you need to reference it for others. All participants will be notified of the meeting and Calendar invitations will be sent including the URL, so you shouldn't need to copy this URL.

Later, if you change the meeting time, or want to change the meeting type to in-person or via telephone, just update the Meeting Logistics and we'll handle the rest: updating or removing the Zoom meeting as appropriate.
Troubleshooting
Your Zoom meeting is independent of Cal Poly Entrepreneurship Platform. We don't get notification if the actual meeting occurred, recordings, or transcripts. Similarly, you can set / unset meeting parameters (video, meeting room, etc.) by using the Zoom app.
Some Zoom accounts allow a limited number of meeting participants, or a limited meeting duration. We don't have access to your account's limitations, so you may be able to schedule a four-hour meeting, but your Zoom account limitations may restrict the actual meeting to only 40 minutes. You should be aware of your account's features.
Be careful modifying scheduling information outside of Cal Poly Entrepreneurship Platform, as the information may become out-of-sync. If you need to cancel or postpone a meeting, use the Change button on your Meeting Details.
You may be prompted to re-authorize the Zoom connection. This may occur if you've not used the connection for a long time, or if some parameters associated with your account have changed. Re-authorization simply repeats the initial installation process. If you get continued prompts to re-authorize, please contact support.
Uninstallation - De-Authorize Zoom
If you no longer want to permit Cal Poly Entrepreneurship Platform to connect with your Zoom Account, select button on this page. We'll immediately remove all access tokens related to your account.
You should also deauthorize this app from the Zoom Marketplace:
Login to your Zoom Account and navigate to the Zoom App Marketplace
Click Manage > Installed Apps or search for the TrustedPeer MentorLink app.
Click the TrustedPeer MentorLink app.
Click Uninstall.
You can always re-connect at a later time.
See also:
---
Was this information helpful?
Suggestions for improvement?
Still need help?