Program Archiving
Programs can be archived and unarchived by an administrator.
To Archive a program means it will be removed from views, but not removed from the platform. An administrator can always unarchive the program to make it visible again. This is in contrast with deletion, which permanently removes the program from the platform and cannot be reversed.
Why
You may wish to archive programs which have been completed, or are no longer relevant for users. This may include "New User" or other introductory programs: Once completed by the user (or perhaps the user simply ignored them) they should be archived to remove the clutter.
Similarly, if you have programs which are executed periodically, say an Accelerator program which is offered each summer, you might archive "last year's" programs, so your views only contains "this year's" programs.
An archived program is no longer visible to anyone: it will be removed from Administrator's views as well as the views of the program users.
Note: One reason you may want to archive, rather than delete, a user program is to avoid re-assigning this program to the same user later. When using an alias to add users to programs,a deleted user will be re-added when the alias is repeated. An archived user will be skipped. (See Adding Users to Programs).
How
You have two choices. You can archive a program with all it's members, or archive members one-by-one.
Archive Program and Template
Navigate to program list, and select on the Program Title to view the program's detailed list of users.

Within the title bar is an Archive button. Clicking on this button will archive this program's template, and all members listed with this program.
To unarchive a program. Navigate to the program list and select View Archived Programs. This will popup a list of currently archived programs with the date they were archived. Select one to view program details.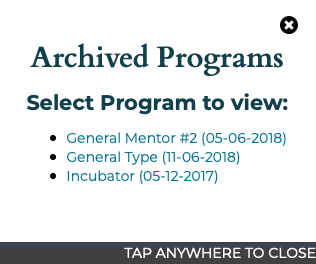 On the program detail view there will be an Unarchive button. From there you can Unarchive (or Delete) this program.
Archive Program User Only
To archive only one (or more) user programs, select the

archive icon for the user. The program will no longer be visible to that user (or team).

To unarchive a program user, select

Show archived button. This will popup a list of currently archived users, with the date they were archived. Select a user to see the program details. On this detailed view will be an

Unarchive
See also:
---
Was this information helpful?
Suggestions for improvement?
Still need help?